Brookville Relies On Slate Roof Cleaners For First-Rate Pressure Washing Services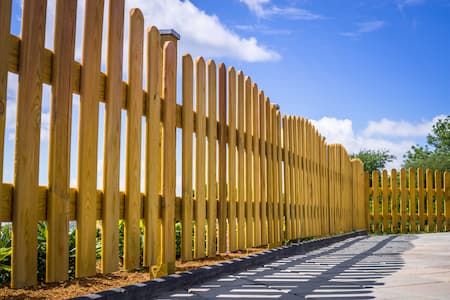 Are you looking for professional pressure washing in the Brookville area? The experts at Slate Roof Cleaners offer premier pressure washing throughout the area to ensure you're getting the best clean available. Our experts can help with all your outdoor cleaning needs.
We know that keeping your residential properties clean can be a challenge. Seasons changing can cause a build up in natural debris. By investing in a professional cleaning service, you can ensure that your Brookville property is clean and protected against the elements. Pressure washing is a great way to keep your outdoor surfaces clean without spending weeks on your cleaning project. The high powered water spray used in pressure washing makes washing larger outdoor surfaces easier. Our experts can get your outdoor cleaning projects done in only a fraction of the time spent on more traditional cleaning options.
We offer premier pressure washing for everything from patio washing to deck and fence washing so you know you're getting a great clean for all your outdoor surfaces in Brookville. However, not all outdoor surfaces can hold up to the rigorous cleaning process we use.
Some outdoor surfaces, such as surfaces made of siding, shingles, or softwood, are more fragile. If we think your surface is too fragile to hold up against the high powered water sprays of pressure washing, we'll offer premier soft washing. Soft washing uses biodegradable cleaners and a gentle water-bleach mixture to ensure your more fragile outdoor surfaces are cleaned and protected. We utilize soft washing for house washing, roof cleaning, and slate roof cleaning.
To learn more about how pressure washing and soft washing can benefit your Brookville properties, call the experts at Slate Roof Cleaners at 631-433-2703 and set up an appointment today.
Fence Washing For Brookville
No matter what materials your fence is made from, the experts at Slate Roof Cleaners can help! Pressure washing is great for your fence washing project because the high powered sprays we use blasts away dirt and grime in even the smallest nooks and crannies on your fence. We'll individually assess each fence we work on to ensure you're getting the best cleaning options available. We choose unique biodegradable cleaners and specialized water pressures to ensure your fence is connected throughout the cleaning process.
We work hard to ensure your fence is protected throughout our cleaning process. To learn more about how our experts can help keep your Brookville fence in great shape, call Slate Roof Cleaners today and speak to our professionals.