Old Westbury's Go-To For Leading Pressure Washing Services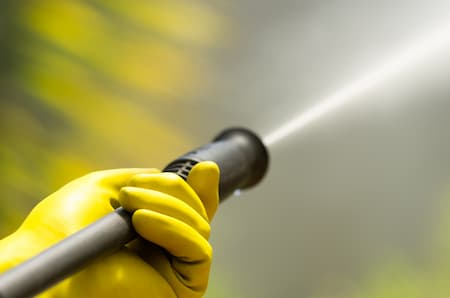 Are you looking for professional pressure washing in Old Westbury? The experts at Slate Roof Cleaners offer premier pressure washing services throughout the area to ensure you're getting the best clean for your unique home.
Pressure washing is a great way to keep your residential property in the best shape possible. Not only does pressure washing ensure your property is cleaned, but it also helps to reveal any damages that might be hiding on your outdoor surfaces. Our experts use pressure washing for everything from patio washing to oxidation removal. While we clean, we keep an eye out for any areas that are weak or damaged. If we find something, we'll let you know so you can get repairs for your Old Westbury properties before it becomes a bigger problem.
For house washing, roof cleaning, and slate roof cleaning, we utilize professional soft washing. Soft washing is a low pressure cleaning option that uses biodegradable cleaners and a gentle water-bleach mixture to clean and sanitize your more fragile surfaces. If we think pressure washing is too rigorous for any of your Old Westbury surfaces, we'll let you know and offer our soft washing process.
To learn more about what pressure washing options are available for your residential property in Old Westbury, call Slate Roof Cleaners today at 631-433-2703.
Slate Roof Cleaning In Old Westbury
If you have a slate roof on your Old Westbury home, you know that these shingles require specialized cleaning options. While slate is one of the best and longest lasting roofing materials on the market, the individual slate tiles are fragile. One wrong step on a slate roof can lead to a tile breaking. To ensure you're getting the best clean for your slate roof, you need to work with a pressure washing company that specializes in slate roofs.
Our experts know that moss, mildew, and algae commonly grow on slate roofs. This means you need unique cleaning options to break down moss, mildew, algae, and other bacteria. We use specialized cleaners and a gentle water-bleach mixture to break down contaminants on your slate roof and leave the area sanitized. High powered water sprays can break apart the slate tiles on your roof, so we only use gentle sprays.
If you're looking for a slate roof cleaning professional for your Old Westbury home, you've come to the right place. Call Slate Roof Cleaners today to set up an appointment with our professionals.