Experienced Driveway Washing In Manhasset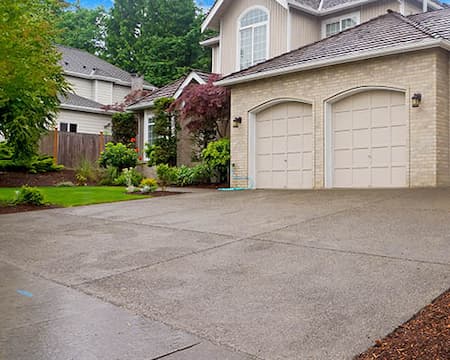 Are you looking for professional driveway washing for your Manhasset residential property? The experts of Manhasset pressure washing at Slate Roof Cleaners know that keeping your home surface clean and clear throughout the year can be a big project. That's why we offer multiple pressure washing options for all your outdoor surfaces.
Keeping your driveway in great shape is an easy way to up property values and increase the curb appeal of your home. Driveway washing doesn't just keep your property clean, it also helps to fight against cracking and breaking in your driveway.
The high powered water spray used in our professional driveway washing blasts away contaminants, no matter how small. The cleaners we use are all biodegradable and eco-friendly to ensure your property is kept safe throughout the cleaning process.
If there are already existing cracks and breaks in your driveway, pressure washing can help to maintain these areas so they don't expand. If you're looking for cleaning for your walkways as well, you can pair our driveway washing service with a paver cleaning or walkway washing. This will ensure all the outdoor surfaces on your property are kept clean and clear.
If you're ready to invest in a professional driveway washing for your unique Manhasset residential property, call the experts at Slate Roof Cleaners today at 631-433-2703 and set up an appointment.
Concrete Cleaning
Concrete is one of the most common building materials used today. Concrete surfaces are solid and strong and they hold up well to routine wear and tear. However, it's important to ensure your concrete surfaces are cleaned regularly by a professional pressure washing service.
Concrete is made up of thousands of tiny pores. These pores are so small that routine sweeping and other traditional cleaning options don't get deep into the pores to break down contaminants. If the pores of your concrete aren't cleaned out, these contaminants can contribute to cracks and breaks.
Because pressure washing uses high powered water sprays and liquid cleaners, this cleaning option gets deep into the pores of your concrete. We blast away contaminants so they no longer have the option to break down at the structure of your concrete.
To learn more about how concrete cleaning can help protect your concrete surfaces from damages, call the experts at Slate Roof Cleaners and speak to our professionals.