Offering Manhasset Paver Cleaning To Maintain Your Walkways & Driveways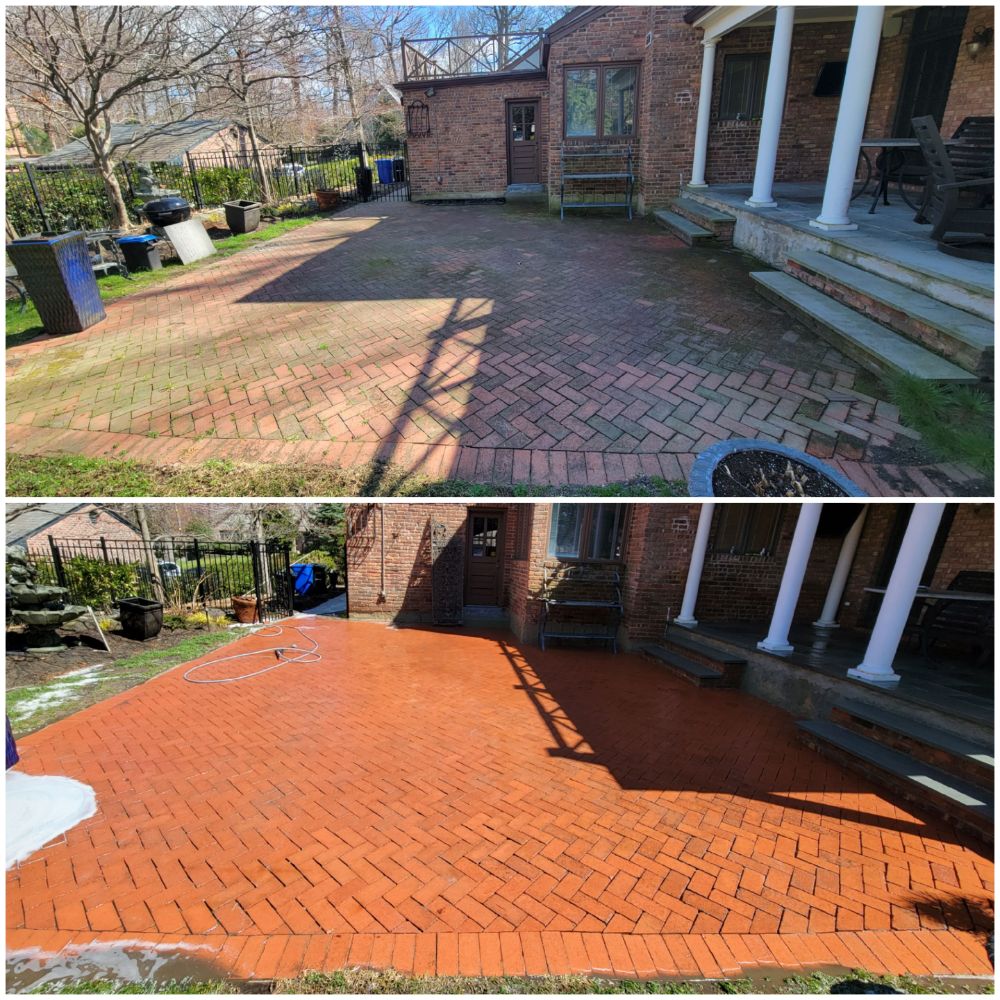 Are you looking for professional paver cleaning for your home in Manhasset? The experts of pressure washing in Manhasset offer premier services throughout the area so you know you're getting a great clean every time. Pressure washing is great for all your outdoor surfaces, but it's uniquely suited to help clean your pavers.
Pavers are small slabs and blocks that are made from a wide variety of materials such as concrete, stone, brick, and more. These blocks and slabs can be shaped and painted to ensure you're getting a unique surface for your home. The surfaces pavers work best for driveways, patios, pool decks, fire pits, and walkways. While our experts offer a patio washing option for any material that makes up your patio, you'll find that paver cleaning has a slightly different cleaning process.
If you have a paver surface in your yard, it's time to call in our paver cleaning experts. We'll individually assess your outdoor surface to ensure we're using the best cleaners for your unique property. We'll also make sure your pavers are protected throughout the cleaning process. To learn more about how a paver cleaning project with the Manhasset pressure washing pros at Slate Roof Cleaners can help with your outdoor cleaning project, call us today at 631-433-2703.
Brick Paver Washing
Brick pavers are pavers that are made of molded clay that is baked in a kiln and set into a mortar or sand base. Depending on where you get your brick pavers, you'll find they come in a variety of different textures, colors, and shapes. The great thing about brick pavers is that you can get them in the exact shape and texture you want. This leaves behind a distinctly original pattern for your outdoor surfaces.
Another great reason to invest in brick pavers is that they're made of natural materials. Brick pavers are a great eco-friendly option for your outdoor surfaces because they're made up of clay, a natural material. The downside to brick pavers is that they can crack or chip easily. A good base and frequent maintenance can help sustain your surfaces over time, which helps to negate this effect.
The pressure washing experts at Slate Roof Cleaners help to ensure your pavers are safe throughout the cleaning process. If we notice damages, we'll let you know so you can invest in repairs before the damage spreads. The other great thing about pavers is that damages usually stick to one or two pavers. That means you only need to replace those two pavers to keep your surface looking great.
To learn more about our brick paver washing option and find out how we can help ensure your surfaces are kept clean and clean, call us today at Slate Roof Cleaners.